It is true when people say you need to get some sound sleep to rejuvenate and be ready for the following day. The bedroom decor and wall colour influence a person's entire day. So, if you are planning to redecorate your bedroom, why not use Vastu principles to set the stage for directing your life in the right direction?
There are several friendly and approved Vastu colours for bedrooms. Continue reading to check out which one would best fit your mood and serve as the focal point colour for your bedroom walls.
Radiating the right energy is crucial for any home's sanctuary. Based on common belief, every home has a particular energy. Thus it is up to the owner to employ Vastu to channel the positive energy and fend off any negative energy.
Below are a variety of stunning Vastu colours for bedrooms from PaintMyWalls, which will assist in choosing the ideal one for your house.
According to Vastu which Colour is Good for Bedroom?
The experts in Vastu Shastra say each room in every home needs a different wall colour depending on how much energy it needs, how big the room is, and which part it is located in.
Vastu states that the colours blue, indigo, purple, and yellow are the best choice for bedroom walls. You may incorporate these suitable Vastu colours for bedrooms in your house by painting the walls in these tones or by adding accents, such as furniture, decorations, drapes, or trinkets.
1. Blue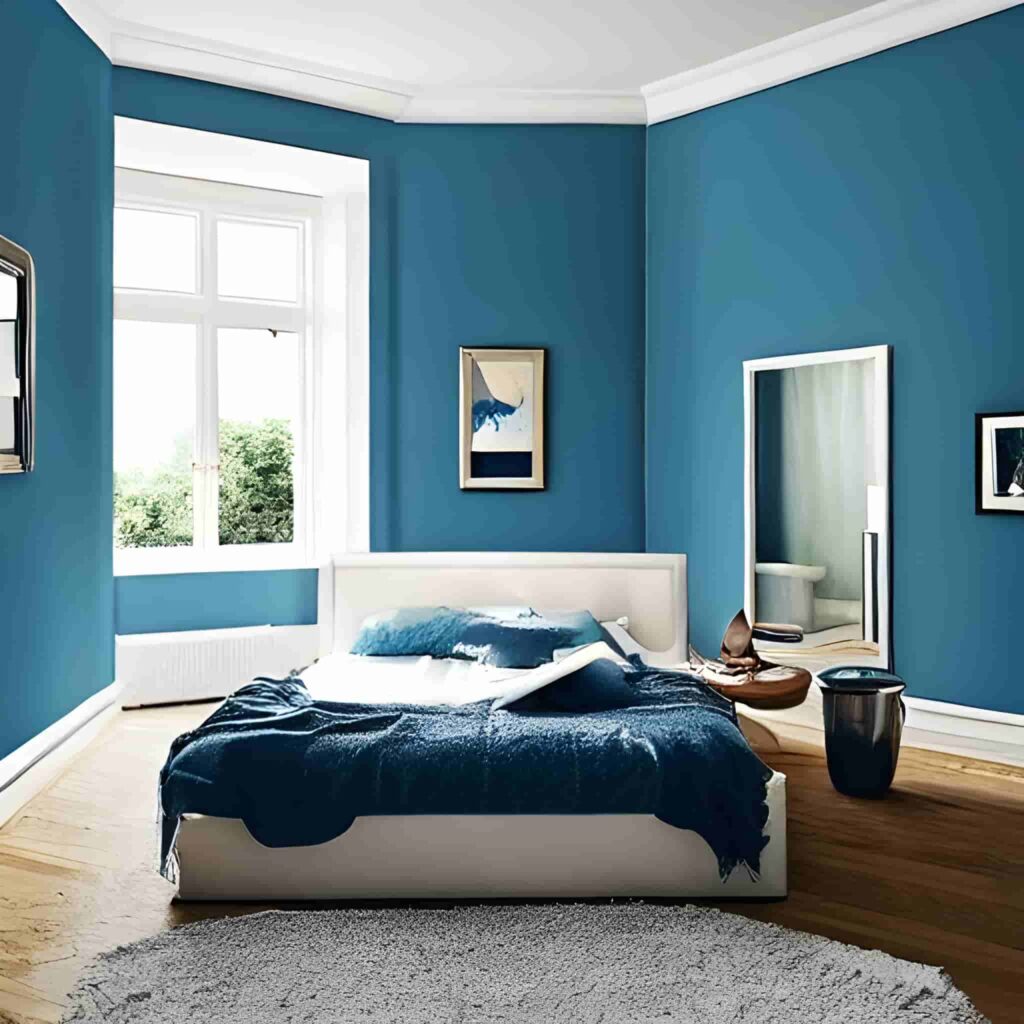 Blue is a tranquil colour believed to stand for intellect and responsibility. Painting your wall blue can be a wise choice if you attempt to instill these qualities in your life. A blue bedroom exudes the most serene blue sensations.
In terms of Vastu colours for bedrooms, blue is a crucial colour. It also provides an excellent base colour when deciding on the hues for the walls of your bedroom. If you paint the walls blue or soft tones of blue, your bedroom will have a tranquil feeling.
Such a place has the potential to provide a tranquil environment, which is excellent. The most striking colour to use after a hard day is blue since it radiates tranquilly and is said to be relaxing to the eye.
2. Indigo
When used in a bedroom, indigo creates a truly luxurious ambience. It is the perfect colour for bedrooms, according to Vastu. Thus, it would be effective to paint both your bedroom and kids' bedrooms in this colour.
We strongly advise painting your child's bedroom indigo since it is the most fantastic colour to encourage enlightenment and provide a calm environment for learning and studying. It stands out being the preferred Vastu colours for bedrooms which helps the children to develop their mental and spiritual skills. Some use it as a blank canvas to transform their children's walls into chalkboards; this colour makes the perfect backdrop.
3. Yellow
Being one of the happy Vastu colours for bedroom, yellow is associated with vigour, happiness, and brightness and fosters creativity. Choose this bright colour if you wish to shine light in your bedroom!
Optimism correlates with the colour sunlight, which denotes joy and happiness. Consequently, choosing yellow as an accent colour for the wall in your bedroom is a wise decision. You can have your entire house painted yellow if you'd like.
While choosing colours for the master bedroom, remember that according to Vastu, including yellow is a great idea because this colour symbolises contentment, intellect, and brightness. Given that it reflects light and gives the impression that the space is larger, yellow is a fantastic choice for a small bedroom.
4. Purple
The next one is among the popular and demanding Vastu colours for bedrooms. Most enticing colour, Purple. It blends the steady, tranquil energy of blue with the fiery, destructive energy associated with red, making it a fantastic option for your bedroom wall if you want the best of both worlds. Vastu advises picking wall colours for bedrooms with the person who will be sleeping there in mind.
Purple is a fantastic colour to make you feel royal since it has a luxurious appearance. The colour purple stands for grace, harmony, and compassion, all of which are admirable traits in a person. It might be worthwhile to try sleeping in a room with these colours may help instill these values.
To Conclude:
With all these positivity-invoking colour choices, you must maintain cleanliness and clutter-free to bring pleasure and plenty into your home. If the home is organised, it will function more smoothly and clearly, which is why Vastu is so significant.
If choosing a colour compatible with a Vastu-compliant colour is not your style, keep in mind that you can always dip your toes into this realm by integrating a few of the colours mentioned above in your bedroom. Then, over time, introduce more colours with the painting experts PaintMyWalls, the best painters in Bangalore, and get out-of-the-box ideas to colour your bedroom with Vastu-friendly colours.
Few Common FAQs on Vastu Colours for Bedroom
1. Which colours are considered auspicious for the bedroom according to Vastu?
Vastu recommends a few popular colours like Blue, Indigo, Yellow, and Purple, for the bedroom.
2. Can PaintMyWalls help me select Vastu-compliant colours for my bedroom?
Yes, PaintMyWalls offers expert colour consultation to help you choose Vastu-compliant colours that align with your preferences.
3. How can I determine the best Vastu colour for my bedroom based on its direction?
PaintMyWalls' experts can guide you in selecting the most suitable Vastu colour based on your bedroom's direction and orientation.
4. How can I book a Vastu painting service for my bedroom with PaintMyWalls?
Booking a service is easy! Visit PaintMyWalls' website or call their helpline to schedule an appointment with our team.
5. Can I combine multiple Vastu colours in my bedroom?
Yes, you can blend Vastu-compliant colours thoughtfully to create a balanced bedroom. PaintMyWalls' colour consultation experts will guide you in selecting the best Vastu colour for you and ensure high-quality workmanship.
6. Why is choosing the right colour for my bedroom essential according to Vastu?
Vastu suggests that the right colours can influence the energy in your bedroom, creating a harmonious and positive environment.