Choose from about 2200 shades from the Asian Paints' colour palette.Use the best paints for your dream. home!
Find The Right Paint For Your Walls
Find the price list of all Asian Paints products here, at Paintmywalls. Style and affordability now go hand in hand. 
The Asian Paints product range is affordable; so much so that getting your dream home painted is a dream no more- it is an affordable reality. This section is dedicated to our customer's benefit. You can scroll through and draw a fair idea about the price per liter on each product.
Choose the quality and Asian paints texture that suits your design and pocket best. We at PaintMyWalls, strive to make your home beautiful. We bring to you our commercial and residential painting services at affordable rates per sqft. Use the best paints, plus the best professionals to get the job done!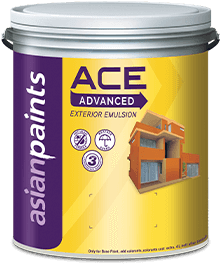 Ace Advanced
Exterior Emulsion is an exterior wall paint with anti-algal protection; best suited for moderately humid climatic conditions.
Ace Emulsion
This paint variety offers excellent resistance to chalking, is anti-fungal in formulation. Clean shades that do not fade, this one beats the heat.
Apcolite Advanced Emulsion
The paint variety offers a rich matt finish with fungus & mildew resistance, this paint is high washable and burnish-resistant.
Apcolite Premium Emulsion
The paints have extra deep colors to choose from; the paint pigments give a Rich Matt finish and is Fungus and mildew resistant.
Advanced Weatherproof Emulsion
Water-based, exterior wall finish with silicon additives, these paints come in 1700 attractive shades. Use extends to 3 years from the date of manufacture.
Apex Ultima
A water-based, 100% Acrylic smooth emulsion, these paints offer anti-algal properties and a 7 year performance promise.
Weatherproof Emulsion
These paints are anti-fungal in nature. The shades do not fade and also come with a 3 year warranty .
Royale Aspira
Interior paints with the smoothest finish, these paints come with a 5 year performance warranty. They are rated the best paint variety for your interiors.
Royale Atmos
Best in its class, these reduce harmful pollutants from the air to make it cleaner. Adheres to strict environmental criteria.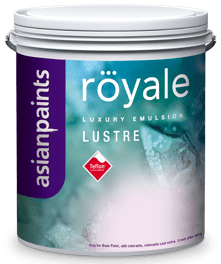 Royale Lustre
It has a Low odor and Enhanced durability. The Rich luster finish gives it a wow look coupled with superior Anti-fungal properties.
Royale Luxury Emulsion
It is Anti-fungal, comes with a Teflon surface protection and is Green assure. The paint has a soft sheen altogether, perfect for your living room.
Royale Matt
Interior wall paint with Dirt-resistant and Antifungal properties, it also claims to be one of the best paints, with Teflon surface protection.
Phaniraj Srinivasarao
The interior paint service was very satisfying and pocket friendly too. I will surely recommend it too everyone. Go for it guys as in bangalore it's difficult to find a good deal with quality like this.
Souptik Chakraborty
PMW completed the painting work of entire apartment within the agreed timeline by fulfilling all my requests. Great job. Thanks to all the guys who were involved in d assignment.
Biju CT
Great work and excellent service .Very professional and they completed the work ontime. Very committed and neat. I give a 5 star rating.
Sheriff Shabeer
They are very responsive and attentive towards customer requirements, completed all my required painting work on time.. Keep up your good work.. Best wishes for your future projects 😊
Vignesh Murugan
We recently got our appartment painted through Paint My Walls. Their service was excellent. They are so professional, on-time and value for money. All my neighbours are also happy choosing them. Good job team PMW...
Royale Play Metallics
It is a water-based texture paint which gives special effects and is available in a various colors for you to choose from.
Royale Play Dune
It is available in silver and gold base that gives your walls a classy metallic luster. Also available in 6 direct shades to choose from.
Royale Play Safari
It has a water-based topcoat finish and provides a sleek metallic luster. Plus, 2 years of shelf life from the date of manufacture.
Royale Play Special Effects
This product has been specifically formulated such that it is easy to apply, thereby facilitating easy application.
Royale Play Stucco
Paints that have 5 effects, these are non- toxic and non flammable and gives your walls a high sheen and smooth finish.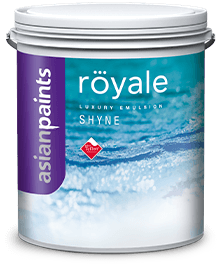 Royale Shyne
Royale shyne is Anti fungal and it has high sheen properties with additional Teflon surface protection.
Royale Wall Base Coat
It is a combination of Primer and sealer, used in interior surfaces to provide the best in class adhesion and moisture resistance.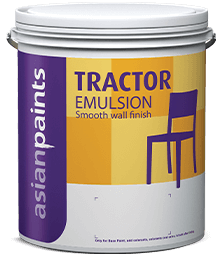 Tractor Emulsion
It is the most affordable paint in Asian Paints segment, offers a smooth finish and over 1600+ shades to choose from.
Tractor Emulsion Shyne
It has Five effects and a high sheen. Besides, it is also non-toxic, non-flammable product and gives your walls a smooth finish.
Tractor Synthetic Distemper
Royale Shyne is Anti-fungal with high sheen properties. These paints also come with additional Teflon surface protection.
Tractor Uno Acrylic Distemper
It is a combination of Primer and sealer, used in interior surfaces to provide the best in class adhesion and moisture resistance.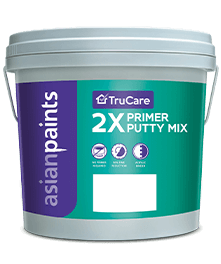 TruCare 2x Primer putty
It is another affordable paint in the Asian Paints segment, offers a smooth finish and 1600+ shades to choose from.
Economy Interior Wall Primer
It Produces a smooth finish with a superior whiteness, while using less material. The shelf life of this product is 3 years.
Exterior Wall Primer
It is a water based primer that gives superior adhesion to the surface. It delivers superior whiteness and is the best primer to use.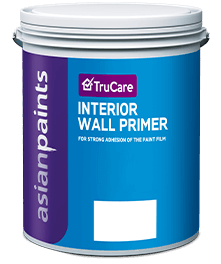 Trucare Interior Wall Primer
This primer sets fast and has good resistance properties. Good sealing further ensures a smooth deposition. Solvent thinnable
Trucare Interior Wall Primer
TruCare Interior Wall Primer is an easy to use primer for your interiors. It sets fast and has good resistance properties.
Woodtech Pu Exterior
It has UV Guards which offers excellent weather resistance. It resists cracks and is best suited for your furnitures.
Woodtech Pu Interior
This product has superior gloss retention and resists cracking. It Has good stain and heat resistance compatibility.
Woodtech Pu Exterior
It has over 115 shades to choose from and has stain resistant properties. It has UV Guards, which make the product excellent for exteriors.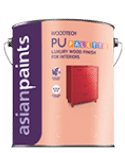 Woodtech Pu Interior
Available in over 115 shades, you can pick the one you like to give your furnitures the best wood finish. They are available in a wide range- each finish to suit different weather conditions.
The Asian paints colour price list provides details about the paints. Asian paints is a leading company in India that offers a wide range of products meant for painting purposes. The Asian Royal paint's price is very low when compared to other brands. There are several other benefits of choosing the Asian paints:
Improve your home's value

:  Asian paints improve the value of your property. Not only do they help sell your property at a high price but also refurbish the overall look. 
Reasonable price:

One of the main benefits of choosing Asian paints is its cost-effectiveness. When compared to the other brands available in the Indian market, Asian paints is more reasonable and pocket-friendly.
Our Asian Paints Painting Service is available in metropolitan cities like Bangalore, Chennai, Hyderabad, Kolkata, Kerala Mumbai, and Pune.