Use the best paints for your dream home!
Nerolac Interior and Exterior Painting
Paintmywalls believe that various types of shades and tones of colours have different effects on our mind and overall ambiance of a place. The warm shades are associated with sun such as red, orange and yellow. Nerolac texture paint price list will give you an idea about the price and you can choose from the various colour options. Many clients prefer earth tones such as shades of brown and beige. Hence, we prefer to take our client's preference into consideration prior to painting.
Choosing the right color for your house or office is more than just a preference. Wall paints reflect our taste and personality. More than anything the colour concept defines our moods. You may have a wonderful home that needs renovation or an office that needs a fresh coat of colour. At PaintMyWalls, we use Nerolac interior and exterior paints to beautify your home. Whatever be your building, consult Paint My Walls and let our expert colour consultants guide you through the right colour for your residential or commercial building. From exterior to interior painting, we take pride in our unmatched solution. At paintMyWalls, we use Nerolac Paints to beautify your home.
For a deep understanding of the types of colours and what to use, get the help of our proficient service provider. We provide customized painting service and colour scheme consultation where our clients get to choose from large collection of shades and tones of the luxurious Nerolac Paints. Good quality paint will be durable and gives great finishing. From certain mood creation to changing the appearance of your house into a beautiful one from that old, shabby look, ask the best painting service there is and get the suitable makeover of your place. If you are looking for Nerolac Paints price to estimate the cost of your project, why not talk to us and save yourself the trouble?
We have services in Bangalore, Chennai, Hyderabad, Kolkata, Kerala Mumbai, and Pune
Wonderwood 2K PU Exterior
Wood coating particular for the interior furniture from Nerolac. It is super premium and Stain Resistant.
Wonderwood 2K PU Interior
A two-component polyurethane wood finish specially formulated to have weather resistant, light fastness.
Wonderwood 2K PU Crystal Clear
A premium quality two component, acid catalyzed crystal clear wood finish which preserves the richness of wood.
Excel Anti Peel
A premium water_based high performance long lasting paint. based on 100% acrylic resin to give your walls a tough_flexible film.
Excel Mica Marble
An extremely durable UV resistant water-based exterior emulsion with enhanced barrier protection.
Excel Rain Guard Horizontal
A heavy-duty, fiber- reinforced elastomeric liquid waterproof coating system for Horizontal Surfaces.
Excel Rain Guard Vertical
A high Quality acrylic emulsion polymer used as a waterproofing and protective coating for exterior vertical walls.
Excel Tile Guard
A premium 100% acrylic water-based high-performance emulsion for roof tiles bricks.Exclusive from Nerolac Paints.
Excel Total
A Long lasting, water-based premium, high performance paint to give your walls a long lasting & all weather protection.
Impressions 24 Carat
A water based luxury emulsion that gives your walls an exquisite look with clear HD colours and a rich smooth finish.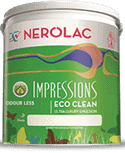 Impressions eco Clean
A Premium Water Based luxury emulsion with ultra rich HD finish and ease of maintenance comes with Low VOC & almost no odour.
Impressions Ideaz
A special effect designer series range that creates a variety of designs on interior walls in matte finish.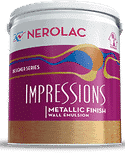 Impressions Metallic Finish
A Premium special effect designer series range that creates a variety of special effects and textures on interior wall.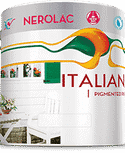 Italian Pigmented White Primer
Smooth and glossy primer finish.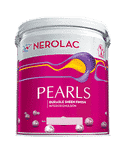 Pearl Emulsion
A rich soft sheen finish with excellent washability and stain resistance property that enhances the visual appeal at an affordable price.
Pearls Lustre Finish
A water based special interior wall paint that captures the magic glow of pearls and the intrinsic resilience of the shell.