Christmas is almost here, the season of overflowing happiness celebrated across the globe. The festival is so vibrantly coloured that it keeps you wondering what your home would look like if painted in Christmas hues. You may use every aspect of the Christmas home painting project. Get some unique ideas for your Christmas interior home paint colours from PaintMyWalls, one of the best painters in Bangalore.
Here is the compiled list of popular Christmas favourites, all in one place.
1. Huntley Green
A marvellous Christmas tree decoration is the best part of the festival. In addition to decorating the tree, you might draw inspiration and decide on a comparable home paint colour. Christmas green has several qualities, some of which are brightness, radiance, and vividness.
So, as part of your Christmas home painting plan, give your bedroom walls a lush coat of green paint like Huntley Feels. To the trimmings and mouldings, add a touch of gold.
2. Christmasy Reds and Whites
What would Christmas be without the captivating contrast of red and white? The intensity of red can be found in Christmas wreaths, Santa hats, candy, cherries, and many other things. Therefore, inspiration from the traditional Christmas colour is necessary for your Christmas home painting.
For the colour of your living room's interior paint, choose a rich hue of red. Your beautiful Christmas home decorations and trees look fantastic against the crimson background. White furniture and drapes can help bring a dash of white to your room.
3. White that's as Good as Snow
Do you know what a dreamy Christmas season looks like? The one where Santa Claus is coming to the town and the whole city is clad with white snow. However, that scene is only possible if you are somewhere where there is snowfall during Christmas. The good news is that you can transform your home into this setting using pure white colours for your Christmas home painting theme.
For added drama and depth for your Christmas home decorations, incorporate finishing touches like millwork and mouldings. Make the space festive with white fairy lights and let the walls appear snow-covered. This will add to the Merry Christmas vibe!
4. Nothing like Gold
Christmas is all about the little golden ornaments you have used throughout the decoration. As a result, you can paint your home with regal gold accents and decorate it with golden ornaments like balls, gifts, stars, and much more.
Use gold from PaintMyWalls Impressions 24 Carat assortment to give your environment the glistening excellence of gold. Although the area in and around the Christmas tree is typically our favourite place to use this dazzling champagne tone, the choices are infinite, especially for your personalised Christmas home painting project.
5. Chocolate- Perfect for the Christmas Home Painting Project
How can you overlook the delicious mugs of hot chocolate that keep you warm when discussing Christmas treats? Imagine if this tasty beverage can take over your living room or bedroom. Wouldn't it be wonderful to spend your time inside your home?
Choose a rich chocolate-coloured home paint for your space as a result. The colour is ideal because it goes well with almost anything. It's a traditional neutral with a wonderful festive vibe.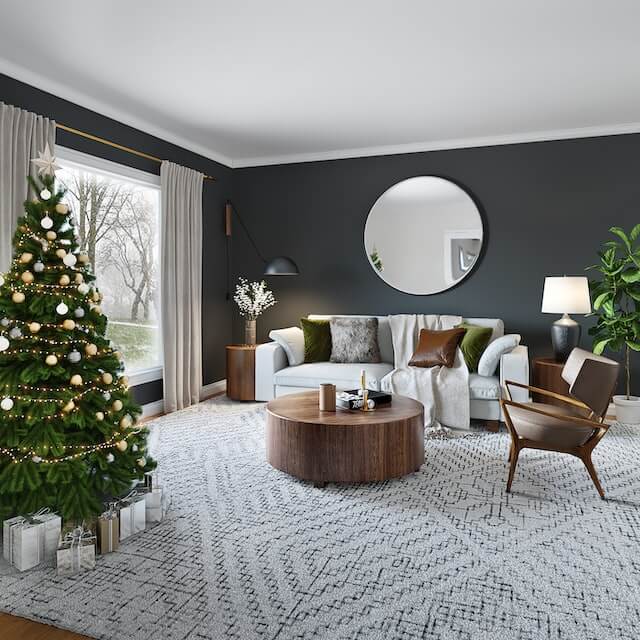 By straying from the traditional holiday pairing, you may make your living room a vibrant space. Keep to the typical reds and greens for Christmas, or experiment with stronger colours if you want to venture beyond the box. Alternatively, you might get assistance from PaintMyWalls, one of Bangalore's top painting service providers that are also reasonably priced.
To feel merry, decorate your house with lights and ornaments, and start painting plans right away. After all, a celebration wouldn't be complete without eye-catching decor.
Merry Christmas to all!