Pink paint schemes for the bedroom walls or other pink colour combinations provide a relaxing ambience. Pink is one of the most widely used colours for bedroom walls. This soft, delicate tint adds a touch of delicacy and refinement to any space. Choosing the right pink wall colour combinations, though, can be difficult. Pink is a colour that goes well with different interior design styles, such as retro, contemporary, minimalist, Grecian, Victorian, Scandinavian, and more. Dual-hued walls with lighter colours on top and darker tones on the bottom give the illusion that a space is larger.
Two-colour combinations for bedroom, when used correctly, can provide the best contrast. While light colours make a room appear spacious, dark colours give the impression that the space is smaller. Choose wall paints in soft pink tones with understated finishes for a relaxing bedroom.
To help you choose the right pink two-colour combinations for bedroom, experts at PaintMyWalls, one of the top exterior and interior house painters in Kolkata and Bangalore, have listed five of the most stunning pink two-colour combinations for bedrooms. Lighter pinks, gentle greens, lavender, light blues, and white all work together to create a calming ambience in the bedroom. Choose whether you want pink to be an accent hue or a neutral one.
For a complete aesthetic look, avoid flowery patterns, delicate frill pillow covers, pink bedding, and other feminine touches, and use coral pink with brown or teal instead. In addition, select a wall pattern for the bedroom.
5 Most Amazing Pink Two-Colour Combinations for Bedroom
1. Grey with Soft Pink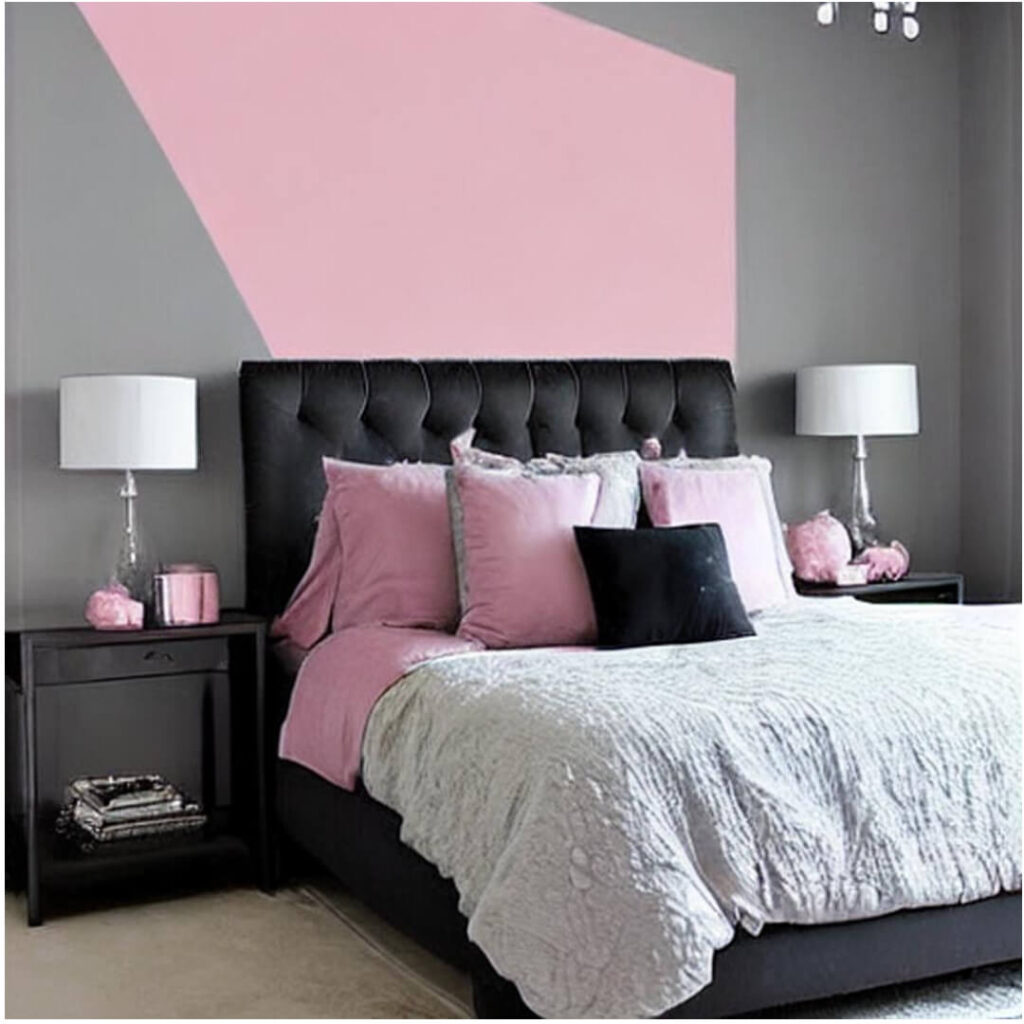 Grey and soft pink is a subdued and peaceful colour combination. These two tones work nicely together to create a calming and trendy atmosphere. You can paint the walls with a delicate pink tone and add touches of grey using cushions, drapes, and other furnishings. As an alternative, you could utilise soft pink accents in the form of cushions and bedding while using grey as the primary wall hue. This complementing grey and pink two-colour combination for bedroom walls are ideal for a contemporary and minimalist space.
2. Pink and Blue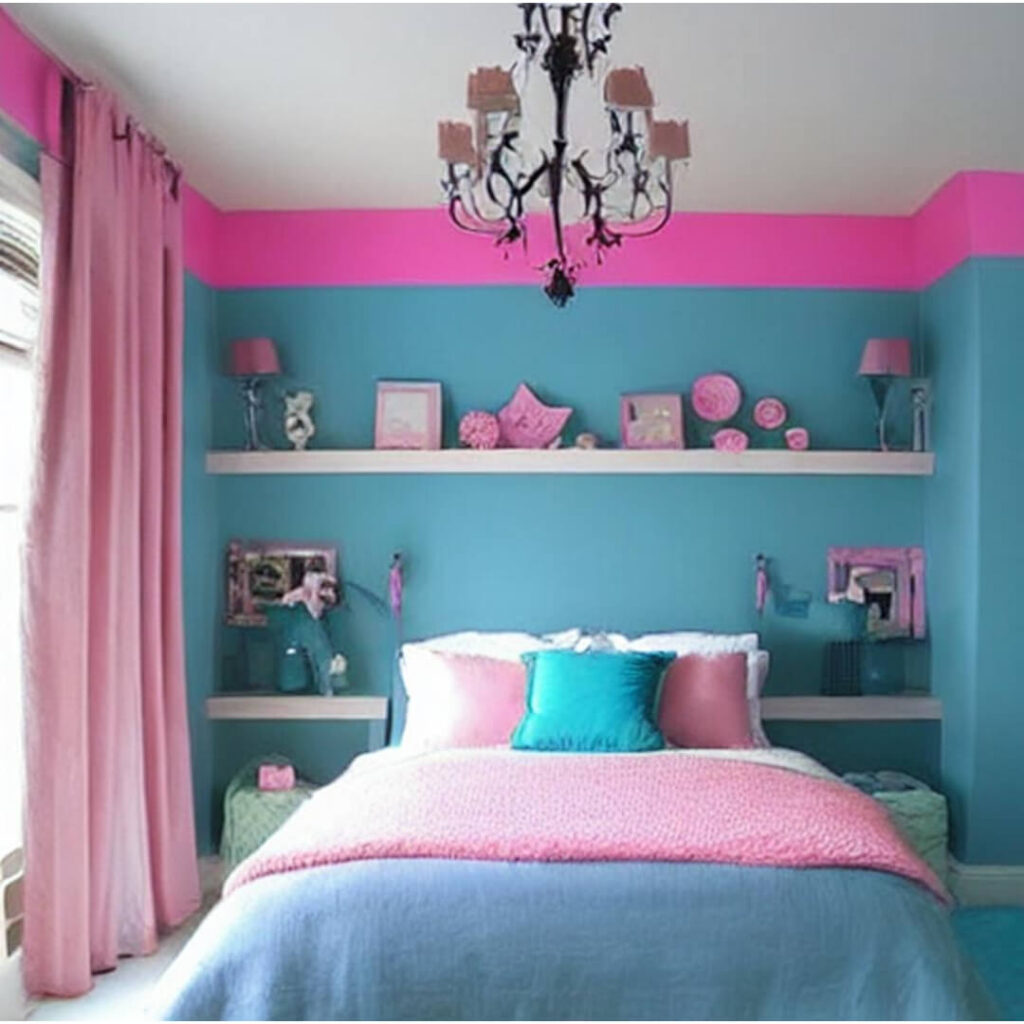 A pure blue is the best colour to use in the bedroom to create a Zen-like ambience. Blue is calming and restful, making it an excellent option for the bedroom. Make sure the ratios of the pink and blue hues are accurate. Pink makes a bold accent hue, but don't use it excessively; a subtle amount can make the space feel cheerier and cosier. Pink and blue together could create a more dramatic and daring appearance. This pink wall combination for bedroom is a wonderful way to inject colour into a bedroom.
3. Pink and Beige Blush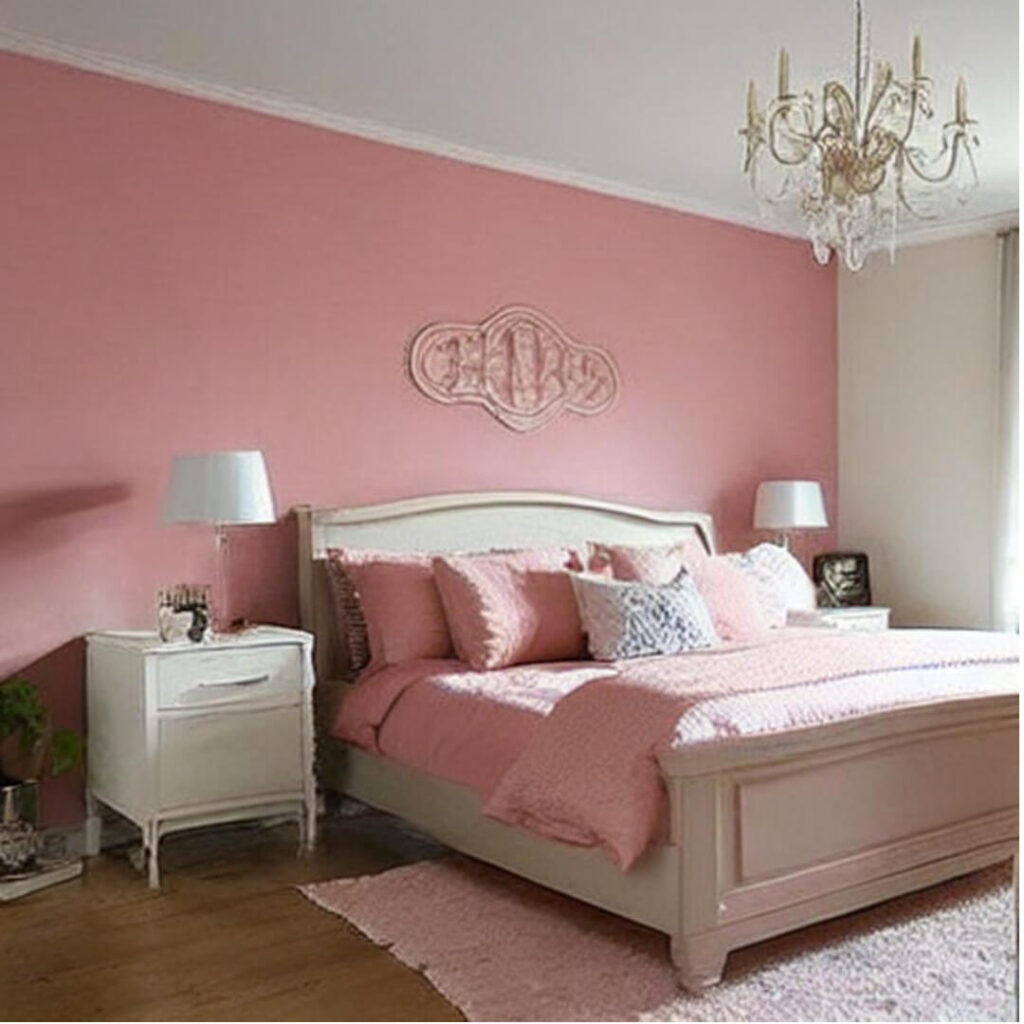 A timeless colour combination that is always in trend is blush pink and beige. This classic combination produces a welcoming and warm environment for a cosy bedroom. Use blush pink as the primary wall colour, and add accents of beige with your furniture, bedding, and curtains. To add some natural and calming elements to your room, you can also add some plants. This pink two-colour combination for bedroom walls is ideal for individuals who desire a gentle and romantic bedroom.
4. Pink and White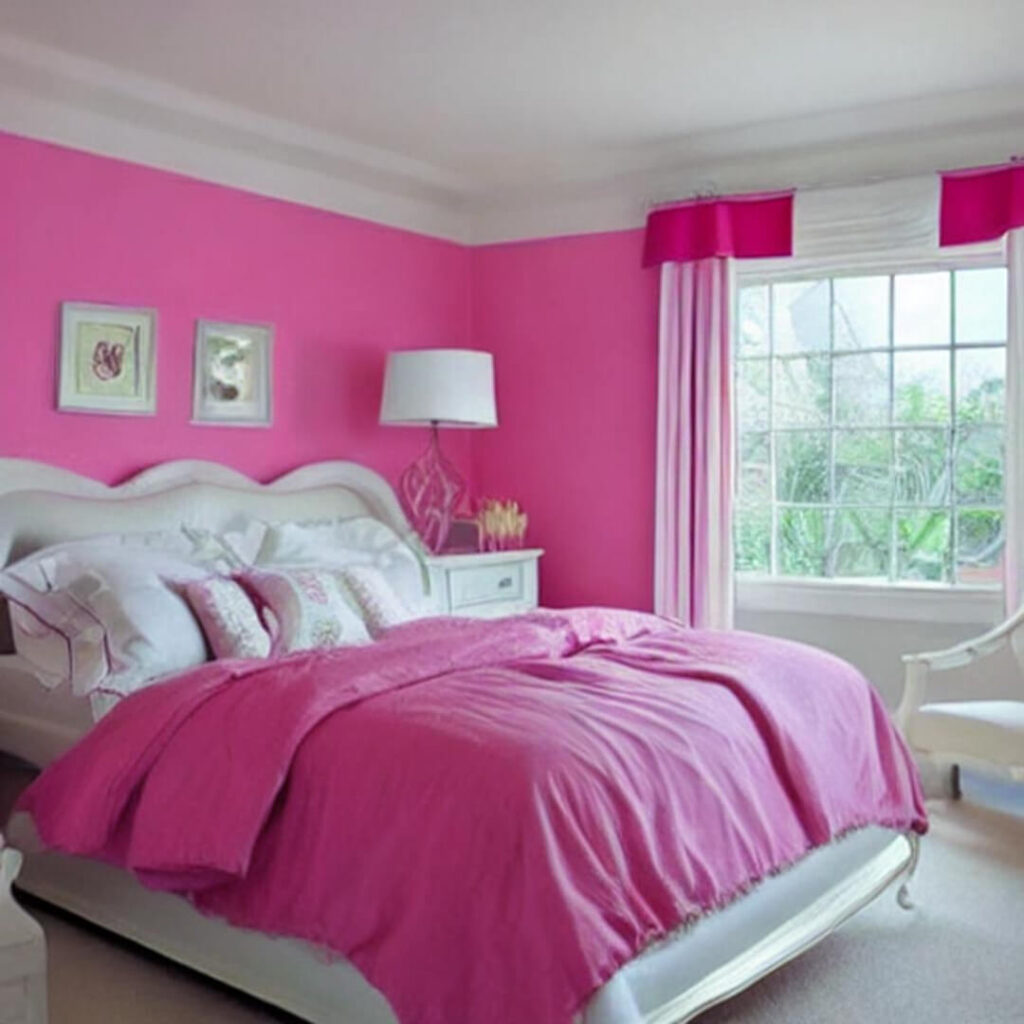 There is no match for the pink and white colour scheme for bedroom walls. White and hot pink complement each other effectively in the bedroom. Use the two colours alternately on the walls, or paint one wall textured pink and the others white. Add a pop of pink to a white space with a pink light, a wall-mounted backrest painted in pink, or a pink bookshelf. This is a good choice when it comes to creating a small bedroom.
5. Hot Pink and Black
Hot pink and black are the ideal pink two-colour combination for bedroom if you desire a daring and strong bedroom. This high-contrast combo's dramatic and elegant atmosphere will make your bedroom seem like an opulent hotel suite. Use hot pink as the primary wall colour and add accents of black with the furniture, bedding, and curtains. You can also add metallic touches to give your area some glimmer and glitter. This pink colour scheme is ideal for those looking for a daring and striking bedroom.
If you want to renovate your bedroom, use a pink two-colour combination for bedroom walls. Pink used to be a subtle shade, but it has become more well-liked as times have changed. It's all about experimenting with the best interior painting and design in 2023, and pink fits right in. You can select from various gorgeous pink wall colour choices to make your bedroom a serene haven. A pink two-colour combination for bedroom walls is ideal for you, whether you want a delicate and understated appearance or a strong and adventurous one.
So experiment with different colour schemes to discover the one best suits your preferences and style. And never forget that selecting joyful and comfortable hues is the secret to a stunning bedroom. Contact PaintMyWalls, one of the best house painters in Kolkata and Bangalore for hassle-free and affordable painting options, including no-cost EMI and pay-later plans that make painting more enjoyable.
Common FAQs on Two-Colour Combinations for Bedroom
Can I use pink and other two-colour combinations in patterns?

Absolutely! Patterns may provide a pink-themed bedroom depth and aesthetic intrigue. Consider pairing one of the two hues in your combination with patterned wallpaper, bedding, or curtains. If you go on pink and grey, for instance, you may add grey patterned throw cushions or a grey-striped rug.

How can I incorporate these two-color combinations into my bedroom?

There are many different ways to use these colour schemes in your bedroom. The primary colour can be used to paint the walls, while the secondary colour can be used as an accent colour for items like furniture, bedding, curtains, or decorative items. Alternately, you may use the secondary colour for smaller accents like pillows, artwork, or carpets and the primary colour for bigger features like the walls.

Which two-colour scheme is most effective in a small bedroom?

In general, it's best to use brighter colours and go with a scheme that gives the impression of more space in a small bedroom. Excellent options are pink and white or pink and grey, which give the space a lighter, more airy atmosphere. Additionally, mirrors and appropriate lighting may assist increase the appearance of space in a room.

What use does it serve to have a bedroom with two colour schemes?

Two-color schemes in the bedroom aid in establishing an aesthetically pleasing and peaceful setting. You may improve the room's aesthetics and give it a feeling of balance and depth by selecting two complementary or opposing colours.

Are there any tricks for bringing a pair of colours into harmony?

By following the 60-30-10 guideline, you may create a balanced appearance. Give the primary colour, pink, 60% of the space, the secondary colour, the other colour in the combo, 30%, and 10%, respectively. This guideline avoids any one colour from dominating the space and promotes harmony.