Price & Rate List for Berger Express Paints
Considered one of the most trusted names in Berger express painting, PaintMyWalls has carved its own special niche in Hyderabad. We specialize in residential and commercial painting, our services appreciated by a number of clients we have previously worked for. The purpose of painting is to protect your walls from the corrosion and degradation. We understand the science that goes into keeping your walls weather-proof and perfect. Wall–painting provides an aesthetic look to your house, sets you apart from the others. This is also one of the key reasons why we use Berger paints. A coat of high-quality paint saves not just money, but also time.
Our team consists of well-trained, experienced and professional painters, the best ones in the city. We take our painters' artistic views into account, even while we incorporate your expectations. This is how we ensure high quality and unique painting services- something that beautifies your interiors. We win the trust of our customers when we use the best quality paints available in the market. We are always ready to assist you, and to work according to your specific choices, needs, and demands.
We generally follow the four key steps, necessary to support our customers: The first is to estimate a budget by verifying and understanding the type of work. The second step is to visit the site. Only after having thoroughly evaluated the first two do we proceed to the third step- start the work. Last but not the least, we  check the quality of work done, and perform all post-cleaning procedures. Berger express painting gives you perfect results, well within the stipulated time.
We entrust our customers with a solid dialogue: we don't charge a penny more than the quoted price. Additionally, we also provide you with a warranty of two years that covers any damages to the painting service. You see, there is some good advantage when you hire us for your work. Timely painting service, artistic and high-quality painting service, well-trained and experienced painters, reasonable price, easy availability, planning before work and high-quality painting materials are just few of the benefits of hiring PaintMyWalls.
There's so much more in store once we become 'la familia' !
Customers can have a look at the Berger Paint Rate list before purchasing. If you want to avail our services, you may connect with us online. Please submit a few details about your painting project. We will be follow this up with a customized quote and a mind blowing customer service experience. We provide our services in Bangalore, Chennai, Hyderabad, Kolkata, Kerala Mumbai, and Pune.
Bison Acrylic Emulsion
Berger's Bison Acrylic Emulsion has a smooth and stylish matt finish, making it an ideal choice for the price conscious customer.
Bison Distemper
Its a 100% water-based acrylic Emulsion for your interior walls. It gives an elegant and a high matt finish for your walls.
Commando Acrylic Paint
It is a value-for-money interior wall paint that gives an emulsion like finish at low cost. It a Better hiding than distemper.
Berger Easy Clean
Berger easy clean has an Elegant Appearance and is High in Durability. The High Washability property makes it unique.
Rangoli Total Care
Its bio-resistant formula prevents walls from fungal attacks and the fine extenders gives a butter-like smooth finish.
Silk Glamor
The product give an ultra-smooth finish to the walls and retain its freshness for a long time. Best value for money.
Silk Illusions Luxury Metallica
Design Metallica gives the wall a designer finish with glossy metallic effect added to it. It is a glossy, metallic finished.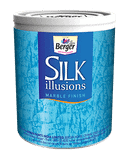 Silk Illusions Marble
Marble is a range that offers a wide variety of textures and colors in three finishes – satin, matt and gloss.
Silk Illusions Metallica
It is 100% acrylic emulsion paint for interior exterior application. This special effect paint gives glossy metallic finish.
Silk Illusions Non Metallic
Unique Patterns such as autumn, crush, twirl, spatula, flora, nova, Wi-Fi, strings, trance.It has a very Easy Application.
Silk Illusions Vintage
Vintage Finish is a water based interior texture emulsion that can be used on interior puttied/POP/wooden surfaces.
Silk Luxury Emulsion
Berger Silk epitomises luxury for your walls due to its sensual finish, supreme lustre and exotic colors.
Weathercoat All Guard
The products chemical composition provides your walls all round protection from all external challenges
Weathercoat Anti Dust
Unique Dust Guard technology doesn't allow dust to settle on your walls. It keeps your house looking new.
Weathercoat Long Life
The product is designed for heavy rainfall areas and provides excellent protection against extreme rain.
Weathercoat Smooth
The products unique chemical composition provides your walls all round protection from all external challenges.